The Marian Hagins' Memorial Art Competition was started in 1983 by the three children of Marian Hagins, in loving memory of their mother who "understood that art is the past, present, and future" as written by Mrs. Inez Plyler in 1983. Marian studied commercial art at The Washington School of Art under the tutelage of Dayrell Kortheur, Paul Bartlett, and Russel Henderson, and took workshops from John Brady, Dean Barber, Boyce Kendrick and many others who influenced her love and talents in the arts. She loved to experiment with many different types of painting materials and mediums, and developed life-long friendships with other local artists. This mutual love of art led Marian and friends to start the The Lancaster County Art League in 1954, as a means to help further the arts as well as provide a meeting place for artists and art lovers to share their love of the arts.

"The Art League and the Arts Council are not just for artists - they are for anyone who loves art and wants to learn."

The annual competition is open to any resident of Lancaster County of high school age and older, for work done in the last two years. This competition is sponsored by the Hagins Family, the Lancaster County Council of the Arts, and the Lancaster County Art League. Marian's children also established a trust fund which provides for the majority of the competition awards.
​
2020 CALL FOR ARTISTS
AWARDS
1st Place: $300.00
2nd Place: $175.00
3rd Place: $125.00
4th Place: $100.00
Honorable Mention (4): $25.00
People's Choice: $75.00
​
CALENDAR OF EVENTS

Friday, September 18, 2020 | 5 PM
Online Entry Deadline for Intent to Submit Work
Wednesday, September 30, 2020 | 10 AM – 4 PM
Deliver Work to the LCCA
Thursday, October 1, 2020 | 10 AM – 4 PM
Deliver Work to the LCCA
Friday, October 2, 2020 | 10 AM – 3 PM
Final Day to Deliver Work to the LCCA
Sunday, October 11, 2020 | 3:00-5:00 PM
Outdoor Reception & Awards Ceremony
The Historic Springs House, 201 W. Gay St, Lancaster, SC
The Reception is FREE and Open to the Public.
Please Invite Your Friends and Family.
October 12 – October 27, 2020**
Exhibition at the Historic Springs House by Reservation
October 28 – 30, 2020
Exhibited Work Must Be Picked Up by 3 PM, October, 30
October 11 – November 27, 2020
Virtual Exhibition Dates
**at present we plan to hang the exhibition at the Springs House for limited viewing in small groups. Should this change due to COVID-19 circumstances, we will alert you prior to the delivery date of any schedule and exhibition redesign.
​
Please download and review the Full Prospectus. We

strongly encourage

all artists to submit details about your work using the Online Entry Form.
If for some reason this is not possible, please let us know.
Third Place 2019
Longfellows by Gina Ash
Shirley and Ember
Shirley took an Honorable Mention, and Ember received 4th Place!
Second Place - Waiting for Pizza
by Bill Bradley
Hagins Family
4th Place Ember Estridge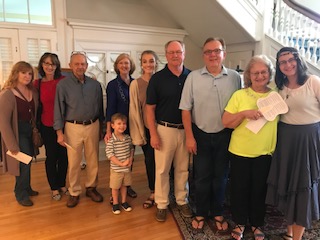 The Hagins Family and a few winners from this years competition pose for a lovely picture.
Sisters - First Place 2019
With their daughter at school, Joanna Lothers parents pose with her First Place winning piece, Sisters!
Hagins Family with Artwork
First Place 2018
Elizabeth Cutrer, The King Fisher
Second Place 2018
Gina Noelle Ash, "Never" Belongs to God
Third Place 2018
Third Place was presented to Bill Bradley for his piece "Lily's Porch."
View of the Manor
Honorable Mention
One of our Honorable Mentions, and our Peoples Choice winner, Miss Ronda Schaeffers piece "Palmetto Days"
Honorable Mention
Alex Skala, Afternoon Delight
Honorable Mention
Joanna Lothers, Child of Musoma, Tanzania.
Honorable Mention
David Helwer, Coffee Cup and Ink
2018 Award Winners
Pictured: First Place, Elizabeth Cutrer ; Second Place, Gina Noelle Ash ; and an Honorable Mention for Joanna Lothers.
Fourth Place
Fourth Place was presented to Donna Pittman for her work "View of the Manor."
MH 2017 First Place
2017 Marian Hagins Memorial Art Show
The Hagins family and honorable mention winners, Vicky Moyer and Hope Harris.
Marian Hagins Memorial Art Show
The Hagins family and 2nd place winner, Marcia Pyner.
2017 Marian Hagins Memorial Art Show
The Hagins family with 4th place winner Corrine Glenn.
Marian Hagins Memorial Art Show
The Hagins family and 3rd place winner, Gina Noelle Ash.
Marian Hagins Memorial Art Show
The Hagins family and 1st place winner, Bill Bradley.
IMG_1035.JPG
Marian Hagins Memorial Art Show
MH First Place Cutrer 2018
2019 Winner
Joanna Lothers
2018 First Place Winner
Elizabeth Cutrer
2017 First Place Winner
Bill Bradley